At the Central District Conference Annual Meeting, Betty Pries guided participants through rich exploration and insights into what we can do to build equitable, diverse and inclusive congregations. This issue of Reporter captures a few segments of her presentation. Also included are summaries of other parts of the June 26 online Annual Meeting. Links are included to recordings and more resources on the CDC website. The Reporter is printed every other month in Jan, Mar, May, July, September, and November. Information for the Reporter is due the 15th of the month prior to the publication date. For more information, please contact the conference office or editor, Mary Klassen.
We are planning to share stories of how congregations are working at addressing racism and building multicultural understanding. If your congregation has a story to tell, please send it to me, Mary Klassen, cdceditor@gmail.com.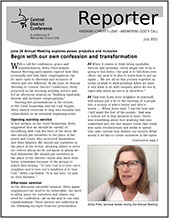 Learn about the June 26 Annual Meeting in this issue and share the information to encourage others to join the "Building Equitable, Diverse and Inclusive Congregations" afternoon session.
This issue also continues to share stories of how congregations are working to address injustices and be more inclusive.