The Reporter is printed every other month in Jan, Mar, May, July, September, and November. Information for the Reporter is due the 15th of the month prior to the publication date. For more information, please contact the conference office or editor, Mary Klassen.
Reporter January 2020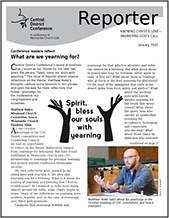 This issue of Reporter explores the Central District Conference theme, "Spirit, bless our souls with yearning." Discover what several conference leaders are yearning for–in the conference, their congregation and their own lives.