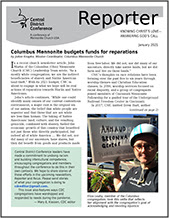 The CDC Ministerial Committee administers Clergy Development Grants funded by the Leadership Development Scholarship Fund to assist credentialed CDC clergy in pursuit of resources for professional development.  Clergy are especially encouraged to consider the areas of anti-racism and dismantling patriarchy. Anyone with an active credential in CDC is eligible to receive a grant. Additionally, a credentialed leader whose ministry has ended is eligible to apply for up to one year following the ending of their ministry position. For more information and to apply click here. 
Mid-Year Gatherings
The Board of Directors will host two gatherings via Zoom instead of the annual Regional Gatherings. These meetings will be held March 6 and March 27, 9:30a – 11:45a Eastern time. You are invited to attend your preferred date.
Register here for the March 6 meeting.
Register here for the March 27 meeting.
After registering, you will receive a confirmation email containing information about joining the meeting.
2021 Annual Meeting

The 2021 Annual Meeting will be held via Zoom June 27, time TBA.
In response to the Racial, Ethnic, and Religious Reconciliation (RER) Task Group's Three Provocations document, the CDC Missional Church Committee is offering a grant to CDC member congregations whose congregants are committed to engaging in anti-racist work together. The committee administers grants funded by the Missional Activities Fund. All CDC member congregations are eligible to apply for a grant. For more information about the grant and to apply click here.