Pastor Appreciation Dinner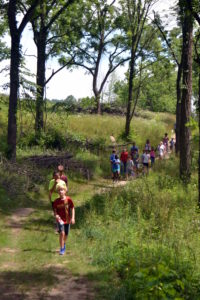 Come, walk with us. . . To God knows where!
Pastor Appreciation Dinner
The Board of Directors and the Ministerial Committee of Central District Conference invite all of our active and retired credentialed persons, spouses/significant others to be guests of the conference at the 2019 Pastor Appreciation Dinner sponsored by Everence. 
Place: Blues Egg, 317 N 76th St, Milwaukee, WI 53213
Date: Thursday, June 20, 2019
Time: 5:00 p.m.
Consider this invitation to be an expression of the Ministerial Committee's gratitude for your faithful service. We will enjoy a delicious meal and warm hospitality. We hope to see you there!
The dinner will be held at 5:00p. Childcare and dinner (Backyard Picnic) will be provided for your children at Milwaukee Mennonite. Be sure to list each child and their age on the form below. Since you are our guests, there is no charge for any of these activities.
Please RSVP by June 10 by registering below or downloading the Registration Pastor Appreciation Dinner and sending it to Central District Conference, 1015 Division St, Goshen, IN 46528.