The Reporter is printed every other month in Jan, Mar, May, July, September, and November. Information for the Reporter is due the 15th of the month prior to the publication date. For more information, please contact the conference office or editor, Mary Klassen.
We are planning to share stories of how congregations are working at addressing racism and building multicultural understanding. If your congregation has a story to tell, please send it to me, Mary Klassen, cdceditor@gmail.com.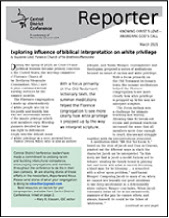 The March issue of Reporter continues the series of stories about how congregations and individuals are grappling with racism and white privilege. This issue also contains links to resources provided by Central District Conference and Mennonite Church USA for these and other issues.