Tending Transformation
Central District Conference 
The annual meeting will be held in person June 23-25, 2022 at Goshen College, College Mennonite Church. Masks will be required. We are also offering the opportunity for folks to join worship live via Goshen College's livestream and to join the delegate sessions via Zoom. Registration is $50/adult and $25/youth delegate. The Zoom link will be sent to registrants after they register. Registration for children K-12 is $15/child, children 0-4 are free.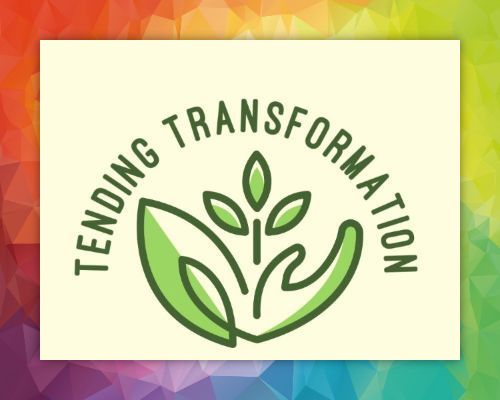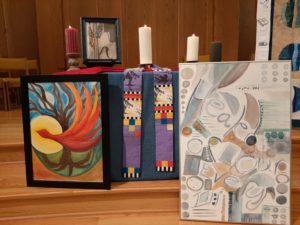 Art representing our "Spirit, bless our souls with yearning" theme will be auctioned this year as a fundraiser. All proceeds will go to the Emerging Communtites of Faith Fund.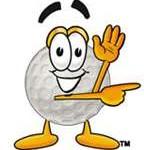 Golf Outing at Black Squirrel Golf Course
1017 Larimer Dr, Goshen, IN 46526
Thursday, June 23, 11:00a first tee time; additional groups will follow
$35/person, includes a cart
Lunch will be available in the Black Squirrel Golf Club snack bar: hotdogs, brats, and sandwiches are available plus beverages. Lunch is NOT included in the golf fee.
Registrants are welcome to form their own teams, or we will organtize teams if you don't have a preference of whom you golf with.
Please register online or RSVP to Ruth Guengerich at rgueng@comcast.net no later than June 17.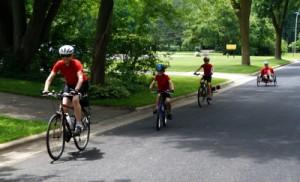 Bike, Walk, Run
There is not an organized event for this but if you want to get out and explore the Goshen area, information and maps for various trails are below.
Thursday, June 23
2:00p  Registration begins at College Mennonite Church in the hall outside the fellowship hall
*     *      *     *     *     *     *     *     *     *     *     *     *     *
3:00p  Storytelling as a tool for spiritual transformation with Kay Bontrager-Singer and Brenda Sawatzky Paetkau in the sanctuary
*     *      *     *     *     *     *     *     *     *     *     *     *     *
5:00p  Pastor Appreciation Dinner at Assembly Mennonite Church, 727 New York St. Childcare available.
*     *      *     *     *     *     *     *     *     *     *     *     *     *
7:30p  Worship at College Mennonite Church in the sanctuary. David Cramer, Keller Park Church, is the speaker. Offering for Natural Helpers Program
*     *      *     *     *     *     *     *     *     *     *     *     *     *
9:00p  Ice cream and Popcorn in the fellowship hall
Friday, June 24
8:30a  Delegate Sessions
 Welcome
State of Conference Address
Congregational Story: Hively Avenue
Review of 2021 Minutes
Treasurers Report and Presentation of 2022-2023 Spending Plan
Presentation and Action on 2022-2023 Slate of Nominees
9:45a  Break
10:15a
Missional Church Committee Report
Word from MC USA
Dwelling in the Word
Blessings: Trenton Mennonite and Keller Park
Introduction of Guests
Announcements
11:45a – 1:30p Lunch on your own. A list of local restaruants is available here and in your delegate packet.
1:30p  Delegate Session II
Term review of Conference Minister
Camp Friedenswald Report
Congregational Story: Southside Fellowwhip
2:00p  Storytelling Stations: 2:00-2:20; 2:25-2:45p; 2:50-3:10p; 3:15-3:35p
Pilgrimage as Spiritual Practice with Jane Roeschley
The Great Adventure with Bluffton University
Journey/Amahoro Ministries with Charles Baraka and Lavon Welty
65 Years with CDC with Perry Bush and Janeen Bertsche Johnson
3:35p  Break
Friday, June 24
4:00p  Worship: "Swords to Plowshares: Sharing Story and Song"  Offering for Ukraine
5:15-7:00p Dinner on your own. A list of local restaruants is available here and in the delegate packet
Saturday, June 25
8:30a Worship at College Mennonite Church in the sanctuary. Susannah Larry, AMBS, is the speaker. Offer for Central District Conference. Communion.
9:30a Break
10:15a Delegate Session III
Congregational Story: Shalom Mennonite Congregation
Ministerial Committee Report
Action on the 2022-2023 Spending Plan
Everence Resources
Open Mic
Constituency Leaders Council Report
MCC Great Lakes Report
Closing
Listening Committee Report
Evaluations & Committee Nominations
Closing words from Board President
Closing Meditation and Songs